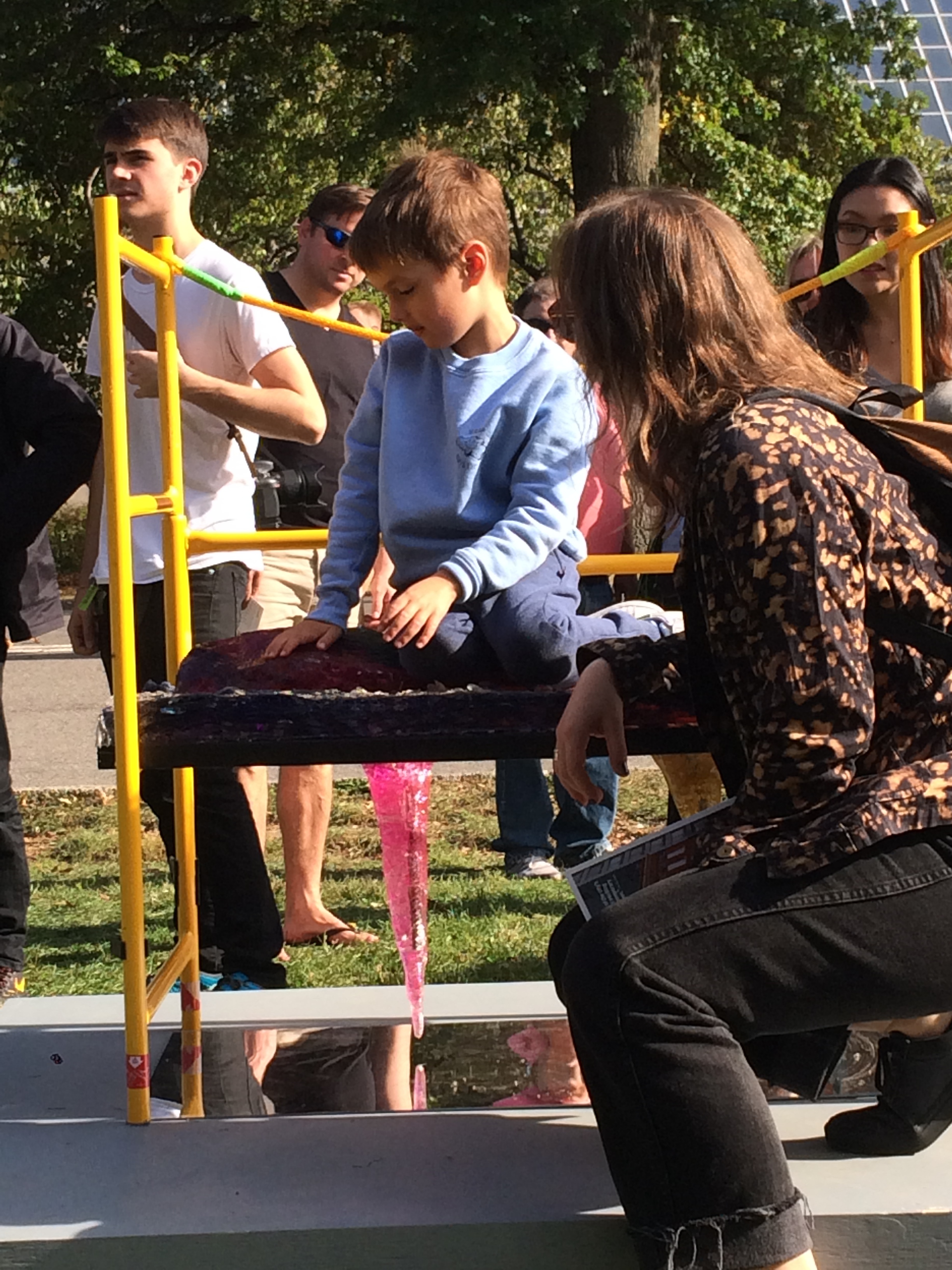 Mira Schor, Teach-In, Feminism and #metoo
First iteration of the project at, It's Happening: Celebrating 50 Years of Public Art in NYC Parks. Central Park, Oct 21, 2017
VIEW FROM ABOVE
THIS IS AN ONGOING PROJECT, THE FOLLOWING RENDERINGS DEPICT POSSIBLE FULL SCALE ITERATIONS .
Life on the Other Side of a Cracked Glass Ceiling
Why is it usually "NO" that inspires action? Certainly it is understandable, in the face of systemic racism and sexism, hate-groups, and the present administration's clear support of these things, we spend most of our time simply defending. However, I pose that even with the chaos around us, our quest should also be an offensive one, our existence shouldn't rely upon its own negation. Life on the other Side of a Cracked Glass Ceiling is a proposal of what that "YES" life might be like. In the text Pedagogy of the Oppressed, one of the main sources for the theories behind feminist pedagogy, Theater of the Oppressed and countless other movements, humanization and dehumanization are the ways groups exploit these 2 opposing realities to maintain power. The project seeks to explore, unpack, address, and ultimately continue to dismantle hierarchies that since the election of Trump have catapulted into hyperdrive. The book opens with these lines:
While the problem of humanization has always, from an axiological point of view, been humankind's central problem, it now takes on the character of an inescapable concern. Concern for humanization leads at once to the recognition of dehumanization, not only as an ontological possibility but as an historical reality. -Paulo Friere, Pedagogy of the Oppressed
The piece itself is prospective, an installation of place that provides space for voices and actions not supported by the patriarchy.
THE SCULPTURE
A lofted floor constructed of broken glass imbedded in reinforced resin will be installed on scaffolding. Scaffolding is a structure used for repair and for building new, an impermanent system when a structure is in process. The broken glass side of the floor isn't exposed but well lit from underneath creating a glowing smooth new floor above for people to walk, talk, play, learn and dance upon. The underneath of the floor drips into stalactites of the same material making "below" the cracked glass ceiling into a forgotten cave, as if to say "remember before this?". Well lit from below, the glowing floor creates a new space, one where we will begin to imagine a different way of being in the real world, just beyond the boundaries of the sculpture. The shape of the cracked ceiling, uses a number of significant places as its model including, but not limited to, the beach in Brooklyn where Washington's Fort Defiance once stood at the mouth of the New York City harbor (now overlooking the Statue of Liberty) and the floorpan of Susan B. Anthony's attic office where she and Frederick Douglas fought together in the battles for suffrage and abolition. This glass ceiling is one of many, a compilation of moments and places in our history where there was violence but also possibility.
Ultimately, the project should travel to various sites. Although white cis men are encouraged to attend, the project's activities will be led and facilitated by women and people of color. "Woman" will be based on transgender definitions and as such its presenters will represent diversity in race, sexual orientation, age, culture, religion and nationality. The events will also be diverse; using a popular education model: skills, readings, lectures, and classes will be shared not given. Culture and making are to be used hand in hand with text, lecture, and discussion such that our hands and bodies are at work while our heads work as well. Liberation is a full body process.
Programming will be specific to each location and iteration of the project. Such that in every city, content is derived from performers, groups, and activists specific to that particular place. The sculpture adapts and acts as a frame, revealing and supporting a new way to interpret our social structure.
Digital renderings and documentation from Central Park
This 5 minute video shows digital renderings of the work at proposed full scale in both indoor and outdoor locations as well as including video documentation from the initial presentation of the work at New York's Central Park.
Chris Jiles w/ Quadir El Amin and Matthew Walker, (W H O)
From It's Happening, Oct 21, 2017
Kelsey Brod as Ivanka Trump, "A Formal Apology"
Nathalie Encarnacion and Jada Burns, "Where Has All Your Power Gone?"
The Public Standing (and squatting!)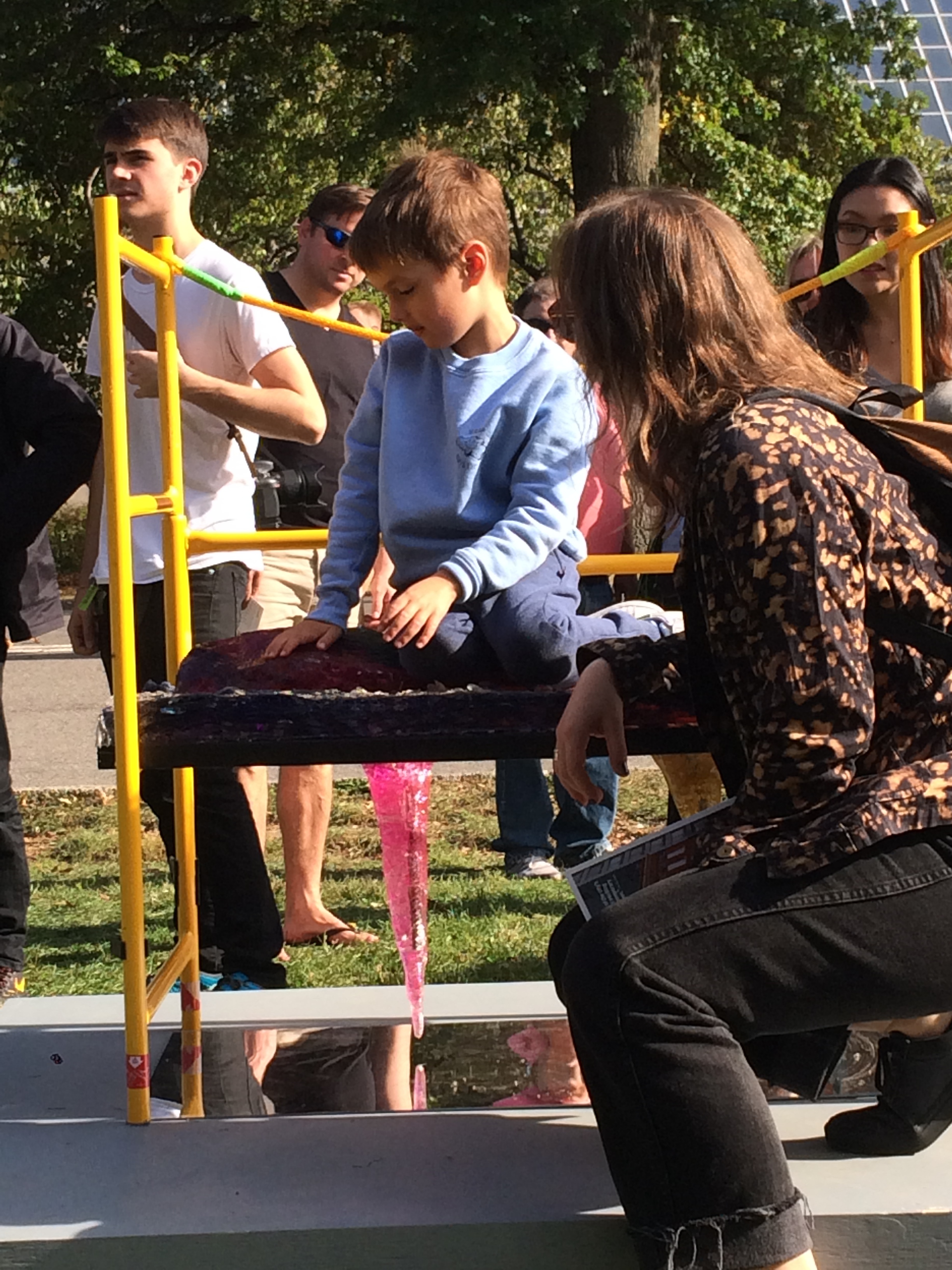 possible variations based on standard scaffolding
possible variation, double decker